Mon - Thu: 8:30-17.30 & Fri: 8:30 - 17.00
COVID-19 – delivery times given are accurate, but in some instances items are taking a little longer than advertised due to circumstances beyond our control. Please bear with us.
Essential complete first aid kits for high risk workplaces.

Ideal for use in Industrial, Agricultural, Automotive, Manufacturing environments.

Provides essential first aid supplies in the event of an emergency.

Stocked with extra items specially selected for industrial working environments.

Compliant with British Standards BS 8599.

Durable moulded plastic case with carry handle.

Case is moisture and dust-resistant to help avoid contamination.

Features white cross and First Aid sign for clear identification.

Clear perspex internal content dividers to keep the contents organised.

Stocked with BS 8599 compliant content.

Supplied with a handy wall bracket for easy to access storage. Includes fixings.

Available in three sizes dependent on the number of employees. See contents list below.

Supplied in classic 'first aid' Green finish with the globally recognised white cross.

Refill Kits and Tamper Proof Studs also available - see below

Images are for guidance only.
NB: Orders under £150 ex VAT are subject to a £6.95 small order delivery charge.
| | | | |
| --- | --- | --- | --- |
| Case Dimensions mm | 1/4 Persons | 5/25 Persons | 25+ Persons |
| Width | 210 | 230 | 230 |
| Depth | 130 | 130 | 130 |
| Height | 290 | 330 | 330 |
| | | | |
| --- | --- | --- | --- |
| Industrial Kit Contents | 1/4 Persons | 5/25 Persons | 25+ Persons |
| First Aid Guidance Leaflet | 1 | 1 | 1 |
| Hypacover First Aid Dressings, 12x12cm | 2 | 4 | 6 |
| Hypacover First Aid Dressings, 18x18cm | 2 | 3 | 4 |
| HypaBand Triangular Bandages | 2 | 3 | 4 |
| HypaCover Eye Dressings | 2 | 3 | 4 |
| HypaPlast Washproof Plasters | 40 | 60 | 100 |
| HypaClean Sterile Wipes | 20 | 30 | 40 |
| HypaPlast Microporous Tapes 2.5cm x 5m | 1 | 2 | 3 |
| HypaTouch Nitrile Gloves (Pair) | 6 | 9 | 12 |
| HypaCover Finger Dressings | 2 | 3 | 4 |
| HypaGuard Face Shields | 1 | 1 | 2 |
| HypaGuard Foil Blankets | 1 | 2 | 3 |
| Burn Dressings 10 x 10cm | 1 | 2 | 2 |
| Clothing Cutters | 1 | 1 | 1 |
| HypaBand Conforming Bandages 7.5cm | 1 | 2 | 2 |
| HypaCover Skin Closure Strips | 10 | 10 | 10 |
| HypaClens Eyewash Pods (20ml) | 5 | 10 | 10 |
| HypaCover Adhesive Dressings 8 x 6cm | 4 | 8 | 10 |
| HypaCover Adhesive Dressings 10 x 8cm | 2 | 4 | 6 |
| Disposable Aprons | 2 | 2 | 2 |
| Clinical Waste Bags | 2 | 2 | 2 |
Related Items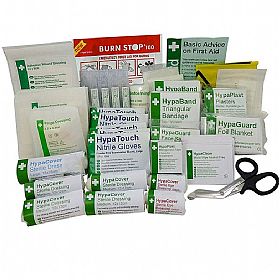 Delivery: 3 - 4 working days