Telephone advice Mon - Fri: 8:30am-5:30pm
COVID-19 – delivery times given are accurate, but in some instances items are taking a little longer than advertised due to circumstances beyond our control. Please bear with us.
Complete refill kit for use with Industrial High Risk First Aid Kits

Available in 3 sizes

See table below for full contents

Image is for guidance only
NB: Orders under £150 ex VAT are subject to a £6.95 small order delivery charge.
| | | | |
| --- | --- | --- | --- |
| Industrial Kit Contents | 1/4 Persons | 5/25 Persons | 25+ Persons |
| First Aid Guidance Leaflet | 1 | 1 | 1 |
| Hypacover First Aid Dressings, 12x12cm | 2 | 4 | 6 |
| Hypacover First Aid Dressings, 18x18cm | 2 | 3 | 4 |
| HypaBand Triangular Bandages | 2 | 3 | 4 |
| HypaCover Eye Dressings | 2 | 3 | 4 |
| HypaPlast Washproof Plasters | 40 | 60 | 100 |
| HypaClean Sterile Wipes | 20 | 30 | 40 |
| HypaPlast Microporous Tapes 2.5cm x 5m | 1 | 2 | 3 |
| HypaTouch Nitrile Gloves (Pair) | 6 | 9 | 12 |
| HypaCover Finger Dressings | 2 | 3 | 4 |
| HypaGuard Face Shields | 1 | 1 | 2 |
| HypaGuard Foil Blankets | 1 | 2 | 3 |
| Burn Dressings 10 x 10cm | 1 | 2 | 2 |
| Clothing Cutters | 1 | 1 | 1 |
| HypaBand Conforming Bandages 7.5cm | 1 | 2 | 2 |
| HypaCover Skin Closure Strips | 10 | 10 | 10 |
| HypaClens Eyewash Pods (20ml) | 5 | 10 | 10 |
| HypaCover Adhesive Dressings 8 x 6cm | 4 | 8 | 10 |
| HypaCover Adhesive Dressings 10 x 8cm | 2 | 4 | 6 |
| Disposable Aprons | 2 | 2 | 2 |
| Clinical Waste Bags | 2 | 2 | 2 |
Related Items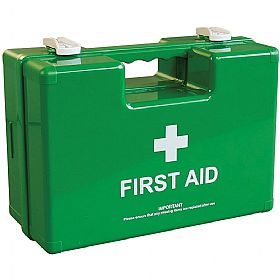 Delivery: 3 - 4 working days