Freephone advice Mon - Fri: 8:30am-5:30pm
COVID 19 Update | Status: Open | Please note, that due to higher than usual levels of enquiries, it may take us longer than normal to respond. Please bear with us. |
COVID-19 FAQS
COVID-19 – delivery times given are accurate, but in some instances items are taking a little longer than advertised due to circumstances beyond our control. Please bear with us.
Maximum performance and versatility with 2200kg maximum load capacity.

The QX22 is ideal to move loads rapidly and over long distances.

Excellent shift speed (10 km/h) and battery capacity (315 ah).

Convenient folding footplate for travelling medium distances whilst still being suitable for confined spaces.

High tech, separately excited traction motor and braking system with energy recovery.

Tortoise function allowing the operator to carry out tasks while the tiller is in the vertical position.

Vertically mounted motors allowing rapid access to parts and minimizes wiring stress.

SEM and MOSFET technology allow better traction adjustment and smoother, more progressive speed control.

Microswitch battery protection, avoiding energy wastage.

Triple sensor safety technology automatically adjusts speed when any of the following occurs:
1. Lateral protection guards are not raised and brought to the "run" position.
2. The turning radius sensor registers a curve with an angle over 8 degrees.
3. The footplate is kept in the closed position.
Removable side frame enables access to the battery which is on an internal roller to minimize effort during the extraction and connection phase.

Heavy duty forks and connecting rods constructed from thick cast iron.

Ergonomic handle with illuminated battery life indicator.

Emergency push button will reverse the truck whilst sounding an alarm, in the event of an operator finding themselves trapped down a narrow aisle etc.

Tandem rollers disperse load more efficiently and improve handling.

Two stabilising wheels ensure maximum stability even on difficult surfaces.

European manufactured and CE compliant.

Available in two fork lengths and two widths.

Super durable epoxy-polyester green finish.

Striking green finish also provides great visibility - ideal in busy environments.

Delivered assembled, ready for immediate use.

3 Year manufacturers warranty on chassis.

1 Year manufacturers warranty on non wearing parts.
Founded in 1966 Pramac is now recognised globally as a Top performing manufacturer of pallet trucks and stackers. If you are a MotoGP fan you may recognise the Pramac logo as they have been linked to prestigious companies such as Ducati for the past 10 years. From light duty to the most intense applications, the extreme care and dedication to innovation, guarantee that the entire range of machines comply with all applicable safety regulations. Manufacturing in Europe and aiming to satisfy any requirement expressed by customers means you can buy with confidence.
| | | | | |
| --- | --- | --- | --- | --- |
| Specification (mm) | 1000L x 550W | 1000L x 680W | 1150L x 550W | 1150L x 680W |
| Lift Height | 115 | 115 | 115 | 115 |
| Forks Lowered Height | 85 | 85 | 85 | 85 |
| Overall Length | 1800 / 2170 | 1800 / 2170 | 1950 / 2320 | 1950 / 2320 |
| Overall Width | 716 | 716 | 716 | 716 |
| Travel Speed | 6 to10 Km/h | 6 to10 Km/h | 6 to10 Km/h | 6 to10 Km/h |
Related Items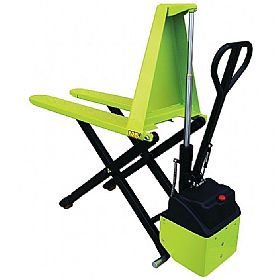 Delivery: 7 - 10 working days
Options
keyboard_arrow_right

Options

keyboard_arrow_right

Fork Dimensions (Length x Width)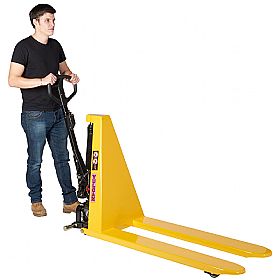 Delivery: 15-20 working days
Options
keyboard_arrow_right

Fork Dimensions (Length x Width)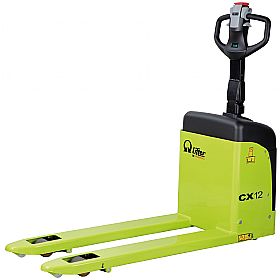 Delivery: 7 - 10 working days
Options
keyboard_arrow_right

Fork Dimensions (Length x Width)

keyboard_arrow_right

Roller Options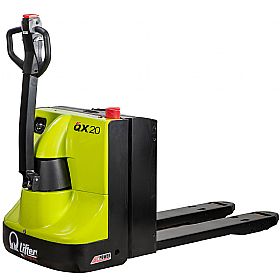 Delivery: 40 working days
Options
keyboard_arrow_right

Fork Dimensions (Length x Width)

keyboard_arrow_right

Roller Options

keyboard_arrow_right

Battery & Charger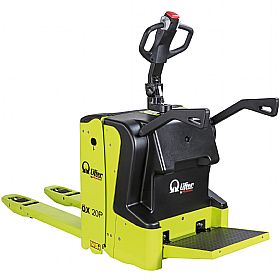 Delivery: 40 working days
Options
keyboard_arrow_right

Fork Dimensions (Length x Width)

keyboard_arrow_right

Battery & Charger