There's a lot to think about when choosing the best office chair for you. Whether you find having an ergonomic office chair to be most suitable or always opt for a specific style, office chairs play an important role in everyday office life.
Not only do they impact comfort levels, but have an effect on work productivity as well as physical health. An incorrectly positioned office chair, or one that simply doesn't cater to the movement and shape of your body, can have long lasting damaging effects on your posture, back, neck and other over-strained areas.
There are many different office chairs on sale today, including everything from fabric office chairs to plastic office chairs, but today we'll be focussing on two of the most popular office chairs available: mesh office chairs and leather office chairs.
The expert team at Equip4work have put together this handy comparative guide to show you the benefits of both, as well as help you find the right one for you.
---
Leather office chairs
Known for their professional appearance, leather office chairs instantly ooze an element of power and elegance meaning they're popular in the likes of boardrooms and managerial office spaces.
Benefits:
Comfortable – Leather chairs are usually made with thick padding that provides comfort to various parts of the body. This includes padding on the arm-rests which helps cushion elbows and forearms throughout the day.
High quality appearance – One of the most popular types of executive office chairs, leather chairs look good and radiate a level of importance.
Make for good home office chairs – A favourite within the home office space, leather office chairs are suited to a home environment and don't look out of place.
If your office space is of a cool temperature and has a lot of space, a leather office chair is the ideal office chair for you. In warmer environments, leather chairs can become sticky and uncomfortable, so ensuring the chair is used in an air-conditioned room or colder office space is essential to getting the most out of your office chair.
Usually offering high back chairs with arms, leather office chairs are perfect for those that need the optimum level of comfort during the working day, with the chair providing support in essential areas of the body such as the back and elbows.
Browse our range of leather executive chairs today and discover the right leather office chair for you. Available in a variety of different styles, designs and colours, you'll find professional office chairs that are ideal for use in managerial offices, home offices and shared office spaces.
Mesh office chairs
Offering a style reminiscent of more traditional desk chairs, mesh office chairs are known to have good ergonomic properties that are ideal for those that suffer with back problems or posture issues.
Benefits:
Casual appearance – Mesh office chairs offer a more casual style than the executive leather office chairs, making them ideal for everyday office spaces that are used by a variety of different employees.
Ergonomic – There are a wide range of mesh office chairs available with different ergonomic properties including adjustable headrests, lower lumbar contour and chiropractor approved seats.
Lightweight – The lightweight properties of mesh office chairs means that they're easy to move around the workplace and transport to different office spaces with ease.
Ventilation – The mesh fabric of the chairs allows for flow of air, and offers ventilation to keep the user a comfortable temperature.
In busy office spaces where employees are at their desk for most of the day, these ergonomic chairs are ideal as they are compact, but still offer high levels of comfort with ergonomic properties that provide support for users. They also provide unrivaled comfort in warmer office conditions, thanks to their mesh material allowing to keep users cool and air ventilated.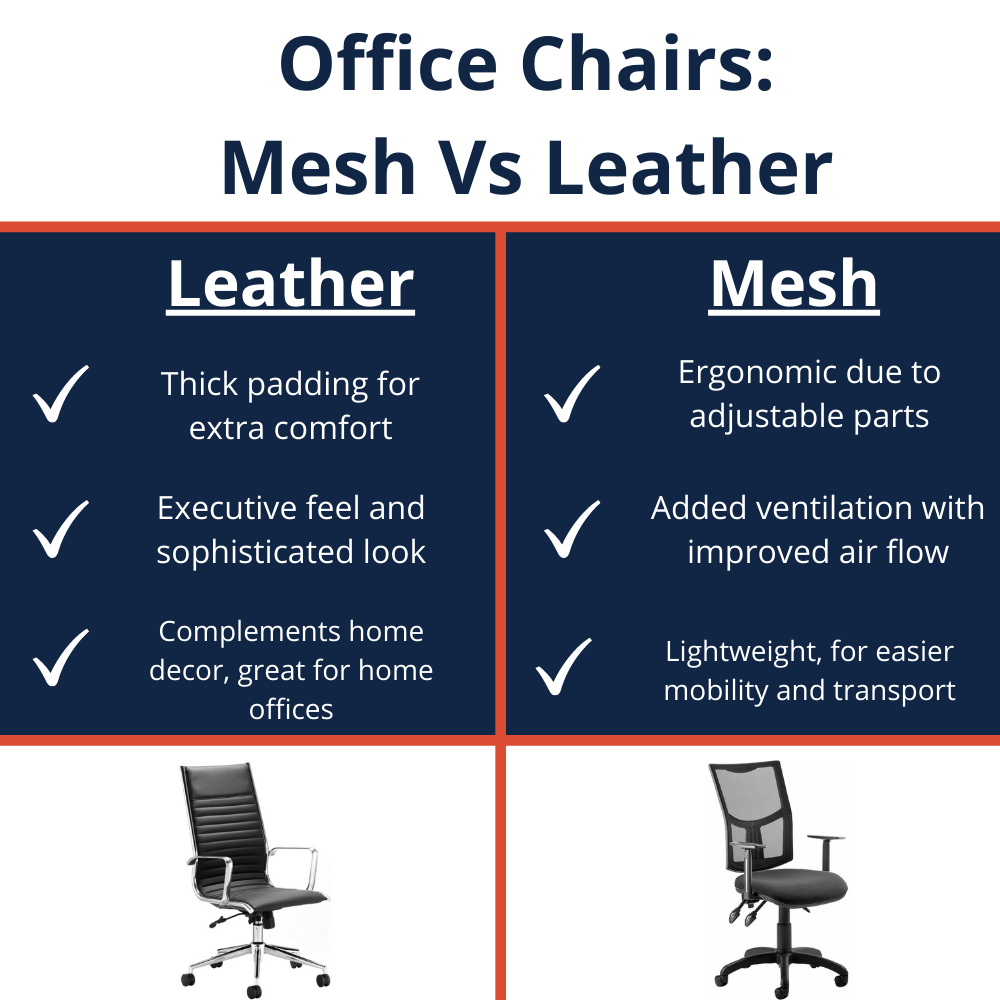 We offer a wide range of different mesh ergonomic chairs including mesh office chairs with arms , as well as an array of mesh executive chairs for superior comfort and style.
---
Browse our full range of office chairs today and discover a wide range of different leather and mesh chairs for your different office needs.
For more essential pieces of office furniture, browse our selection today and discover everything from office display boards to bistro and canteen furniture.
---
Related Articles:
Do You Need Lockers In Your Office?
Creating An Eco Friendly Workplace
Encouraging Employees To Cycle To Work
Blog Published Date: September 14, 2020
|
Office