At Equip4work, we recognise that we all have a part to play when it comes to sustaining our planet. Which is why we are proud to have been awarded for being a part of The Planet Mark.
What Is The Planet Mark?
The Planet Mark is a certification that was launched in 2013 in collaboration with The Eden Project. The aim was to offer a programme for organisations to join, helping them progress and improve their sustainability efforts. The Planet Mark certification recognises companies who are actively making changes that are designed to help protect our environment.
The programme encourages businesses to collaborate, transform and unite, in order to meet their vision of a thriving planet and make a positive impact towards continued sustainability. At present, there are more than 800 organisations certified by The Planet Mark, and we are pleased to say we are one of those organisations, dedicated to making a difference to our world.
Further information on The Planet Mark can be found here.
Why Did We Receive The Award?
The Planet Mark award recognises outstanding achievements made by organisations who are taking steps to create a more sustainable world. We recently received our accolade for being a part of The Planet Mark for five years. The programme has also recognised our efforts in reducing our carbon footprint by 20.6%, along with a 29.2% carbon reduction per employee. We also have a plot of land in the rainforest in Peru, in which Coolearth plants and protects trees under our name. At present we have 240 trees protected.
Take a look at our profile on The Planet Mark members area.
To help us achieve our sustainability goals, we also encourage all staff to recycle as much as possible using the recycle bins situated in and around the office, as well as limiting the amount we need to print to reduce our paper use. We also encourage switching off lights and electrical equipment when not in use to help save energy.
Other Members
Being a part of The Planet Mark programme, we are in great company, as many well known organisations have joined the community too. Global Radio, Gieves & Hawkes, Hypnos and The Royal Warrant Holders Association are just a few examples of some of the organisations dedicated towards long term sustainable change.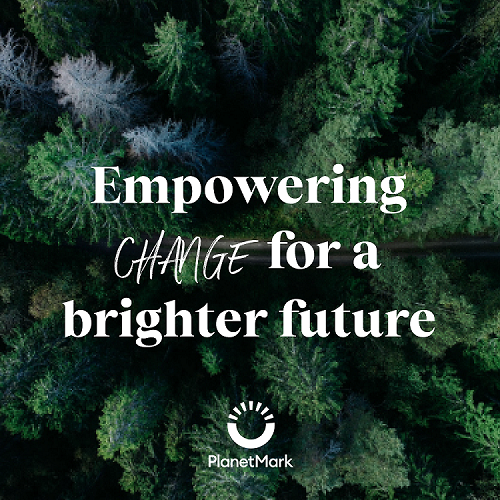 For more information on our sustainable practices, please get in touch, or alternatively, read our guide on creating an eco friendly workplace to help improve your own organisation's sustainability efforts.
We also retail a number of workplace products made from recycled materials and Enviro-leather, allowing you to update your workplace with eco-friendly furniture and everyday essentials.
Blog Published Date: February 11, 2021
|
News